You are here
Event Management Coordinator
Event Management Coordinator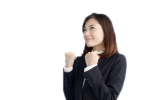 Staff Comment:
イベントの企画・制作・運営までをトータルプロデュースする
Job Description

医学会や国際会議棟のイベント運営企画人材を募集してます。
人が集う場所をその目的に沿って、会場の選択から、始まる事前準備、会場の設営・運営・事後処理までを昭和51年に創業してからの経験やノウハウを生かして、質の高いサービスを提供しています!

General Info

Responsibilities

▽学会、国際会議、セミナー、シンポジウム、企業イベント等の企画営業
準備から当日の運営、事後手続きまでを社内のチーム及びパートナー会社と協力して進めていきます。
具体的には、会場選定から参加募集、登録、宿泊手配、礼状の作成発送等幅広い業務を行っていただきます。

Recruitment Requirements

◇求める人材
【必須要件】
・ビジネスレベル以上の英語力

【歓迎要件】
・一般企業での就業経験
・コンベンションやイベント等に興味のある方
・新卒、既卒共に歓迎

◇募集要項
職種 翻訳, 通訳, 営業, 事務
職種詳細 医学会や国際会議棟のイベント運営企画
英語能力 ビジネスレベル以上

Income

月給 230,000円 ~ 300,000円

Work Information

勤務時間 9:30~18:30
※18:00以降はフレックスのため、仕事が終わっていれば帰宅できます
※イベントが土日に発生したり、イベントの時間によっては早朝出勤や遅くの退社になることもあります。
待遇 ・社会保険完備
・ビザサポートあり
・賞与あり
・昇給あり
休日・休暇 土日祝
※年間休日120日

◇所在地
東京都港区虎ノ門
 
◇◆Please apply by using the form at the bottom of this page◆◇
※ Please understand that we will not reply if you don't follow or meet the requirements.
※ Please do not try to contact us through any means other than the form before we respond to your form entry. If you meet the requirements we will contact you.
ENT株式会社
* ENT Co. Ltd. is cooperating with Connect Co. Ltd. for recruiting opportunities.
* This position is under private recruitment. We will tell you the company name only when we do the interview.
※ We also check your Japanese level through your email correspondence. For positions that require Japanese please mail us in Japanese.
※ Unless specifically stated in the requirements, this position REQUIRES Business level Japanese. Please read all requirements carefully.