You are here
Pub Hostess wanted!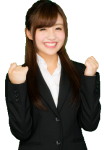 We are looking for Pub hostess in Kamata. The work involves talking and drinking with customers to create a fun and enjoyable time at the pub. You will never be asked to do anything inappropriate. This pub already has English speaking hostesses already so you will have some help in getting used to things with other English speakers. Kamata is close to Haneda Airport, so you can expect there will be English customers regularly.
◇Recruitment position
Pub hostess
◇Salary
Hourly 1,500 yen ~ 2,000 yen
◇Work location
Kamata
◇Time
8PM - early morning
* For non-Japanese residents
- You must have following Visa
Permanent Resident (永住者), Spouse or Child of Japanese Nationals (日本人の配偶者等), Spouse or Child of Permanent Resident (永住者の配偶者等), Long-term Resident (定住者)
- Japanese level
Good enough for everyday conversation
ENT株式会社
* ENT Co. Ltd. is cooperating with TOMO PARTNERS Co. Ltd for recruiting opportunities.
* This position is under private recruitment. We will tell you the company name only when we do the interview.